Welcome to Schiebout Window & Door!
We are glad you are here and have navigated your way to learn a little more about us. Here is a history or who we are and why we do what we do.
---
---
---
1980
The founders of Schiebout Window and Door are my parents Dan and Brenda Schiebout (Skeebowt) They were wed on June 28th of 1980. At this point Dan was in partnership with his brothers in both the family farm, and Schiebout Brothers Construction. However, the early 80's were a challenging time and due to this, were forced out of business. What was Dan to do, there was now no work to be had for a carpenter in Northwest, IA and the farm market was in the tank. So in 1982 Dan moved a pregnant Brenda out Phoenix, AZ where Dan worked construction and Brenda gave birth to me, Matt. Several month after me joining the family Mom and Dad decided the Arizona heat was not for them and moved back to NW Iowa. Here we resided for a short time before California came calling. There were construction jobs there and the choice was made to move us there. In California Dan worked construction on multi-million dollar homes in gated community's. Although the work was great, the Midwest was in their bones and they always had their feelers out for construction jobs back home.
---
---
---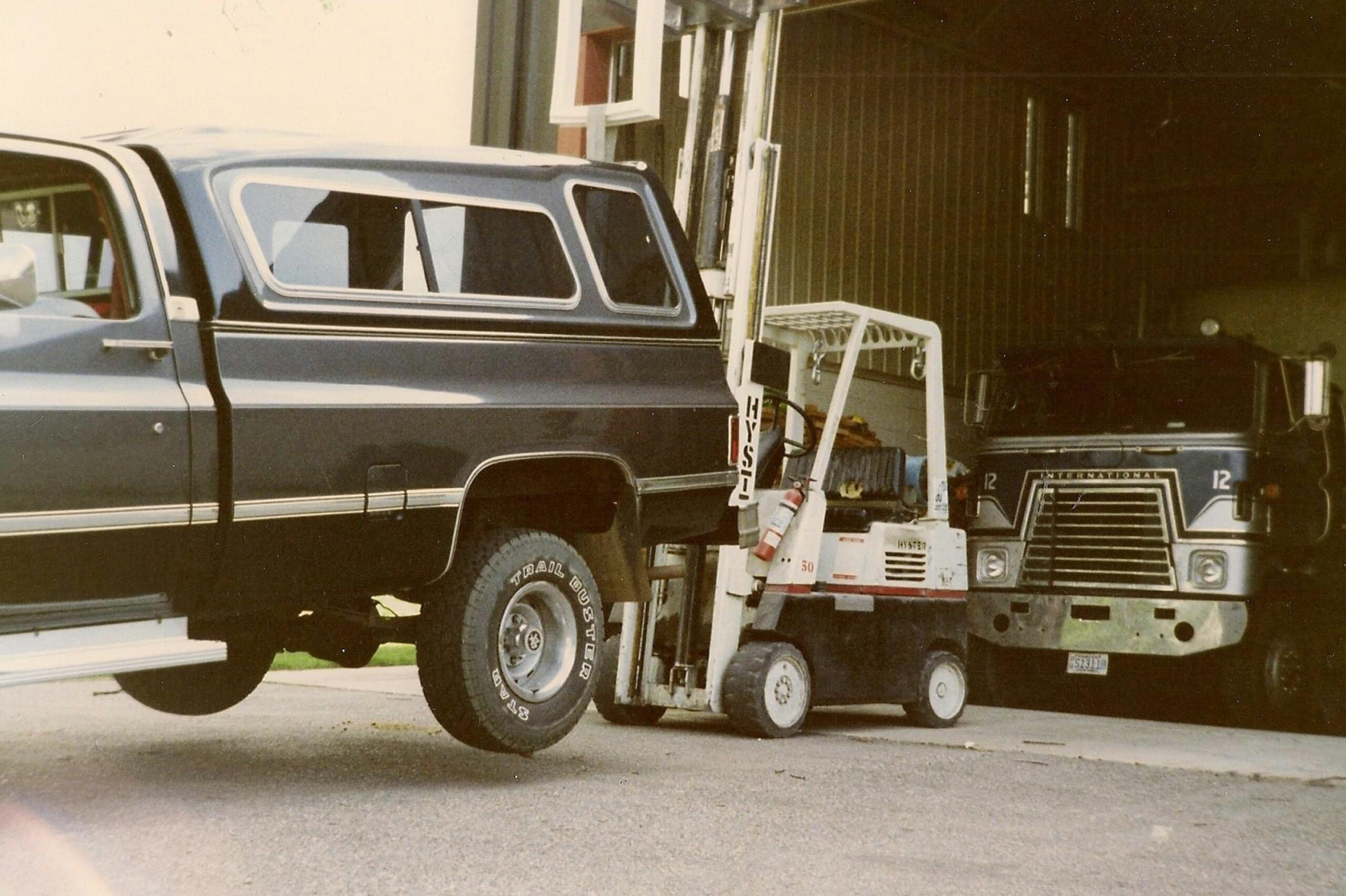 Late 80's at the Lindsay Window Factory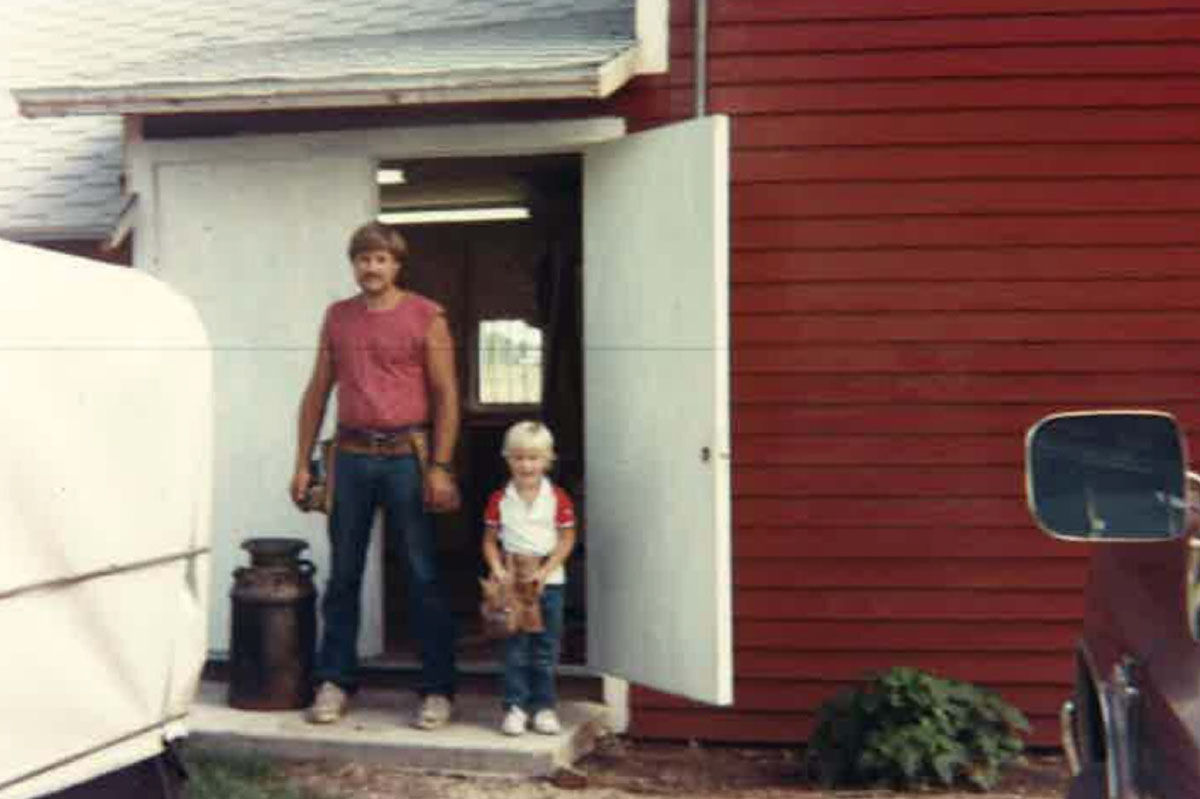 Dan and Matt in the summer of 1986.
---
---
---
1987
After about 6 month of being in Cali, there was word of a carpenter job opening back home, it wasn't a great job, but it was a job none the less and home was calling. Bags were packed and they moved back, buying a 3 acre acreage on the edge of Orange City for $25,000. The job he took was for Mid Sioux Opportunity, and it was working in the weatherization portion of their organization. He would fix old putty glazed windows and install combination windows or wood sash to help low income families increase efficiency in their homes. Through this job Dan had the opportunity to start making some window sash as well as pick up some sash replacement kits from Lindsay Windows in Mankato, MN. It wasn't long and Dan was, on the side, delivering and distributing these window sash all over Iowa to other weatherization agencies. This opened the door to Dan buying some vinyl Lindsay windows independently and installing them on the side in 1987.
---
---
---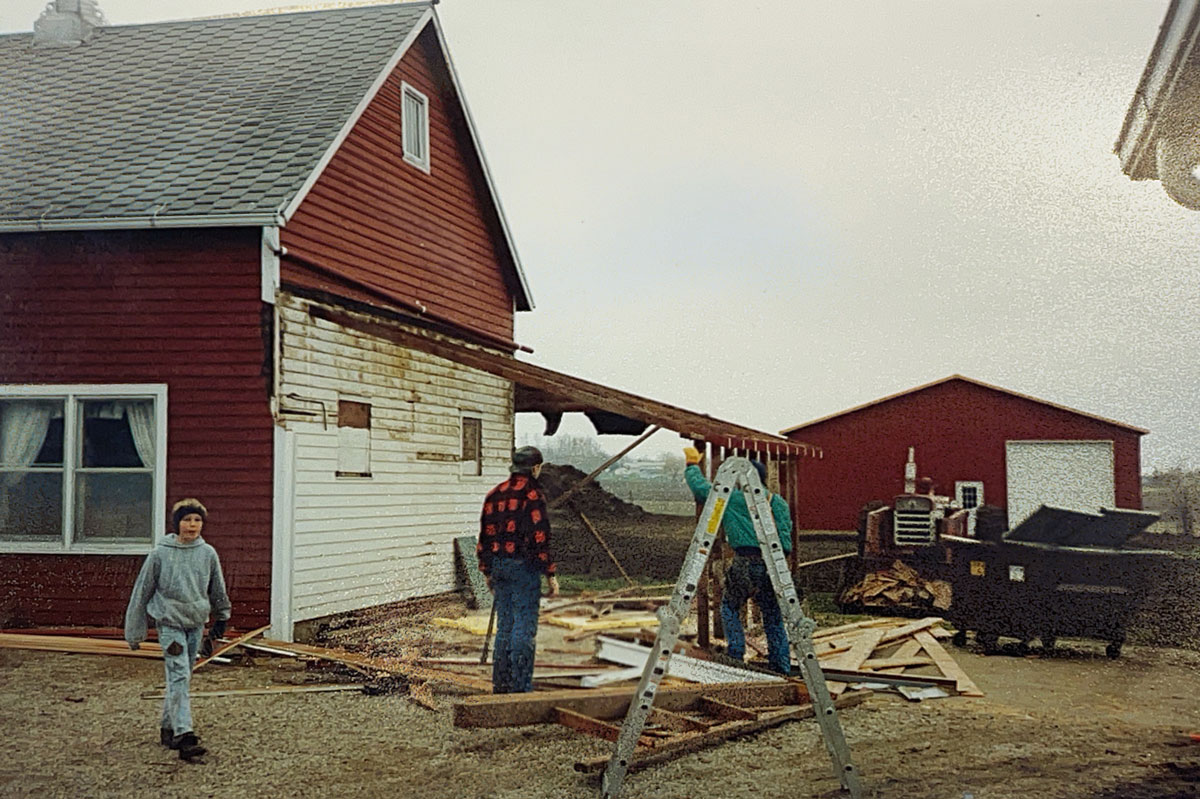 Early 90's office & warehouse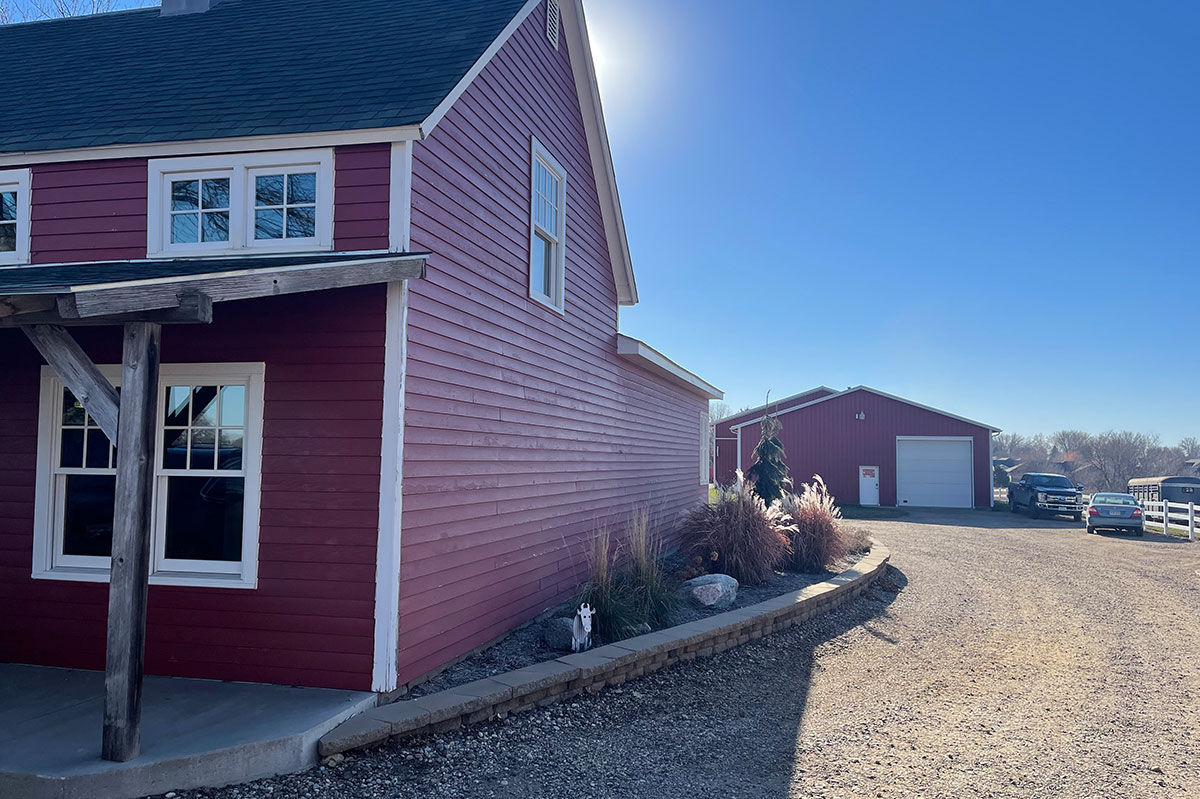 Present day office & warehouse
---
---
---
1989
By 1989, Dan and Brenda knew they had something and could survive solely on window replacement, so Dan officially started Schiebout Window and Door in January of 1990.  At the time of starting the company Dan jumped on board with Marvin windows out of Warroad, MN.  Now he offered a wood windows as well as a vinyl windows.
---
---
---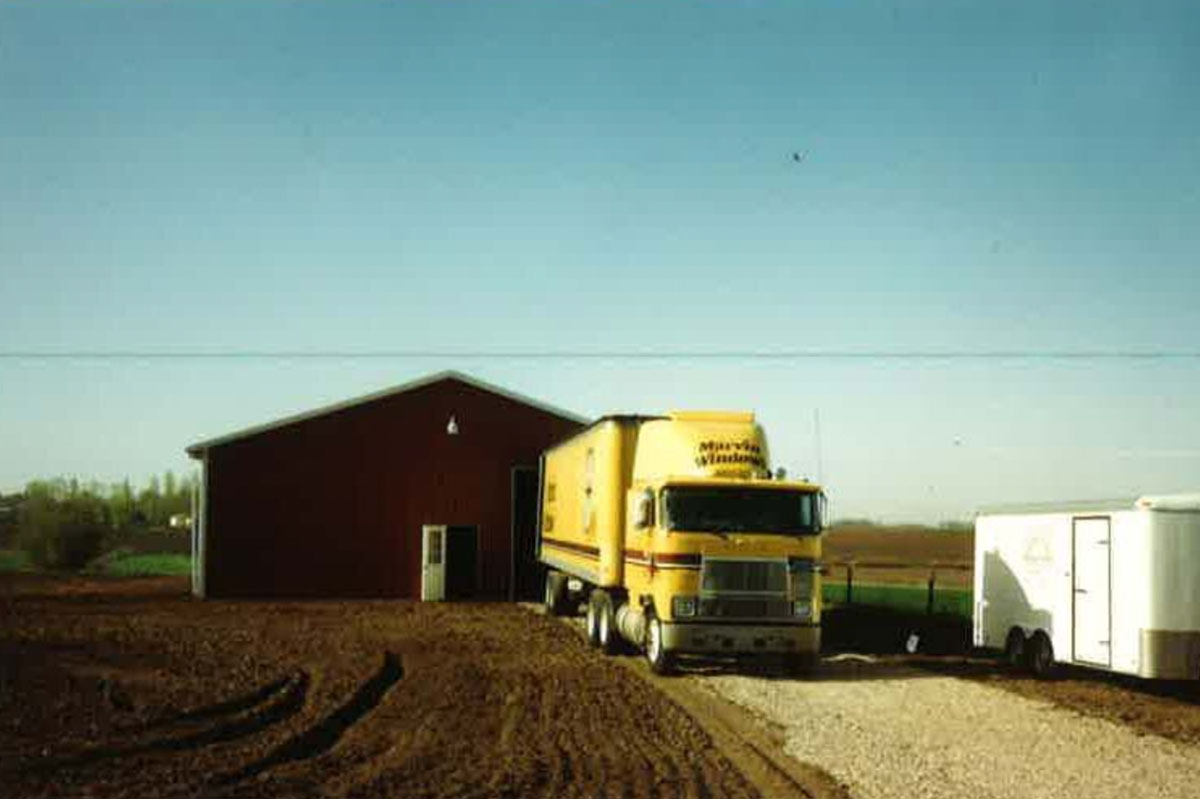 A Marvin truck pulled up to our newly built workshop, circa 1990.
A Marvin truck - Present Day!
---
---
---
1990's
Throughout the 90' business continued to grow, Replacement windows stayed Dan's mainstay. He hired salesmen to take care of new home builds and sell windows, door and interior millwork. Business was good and additions were added to buildings to keep up with the volume. The Marvin brand continued to grow and develop giving more product to sell, but always relying on their quality and dedication to service. It was a great partnership.
---
---
---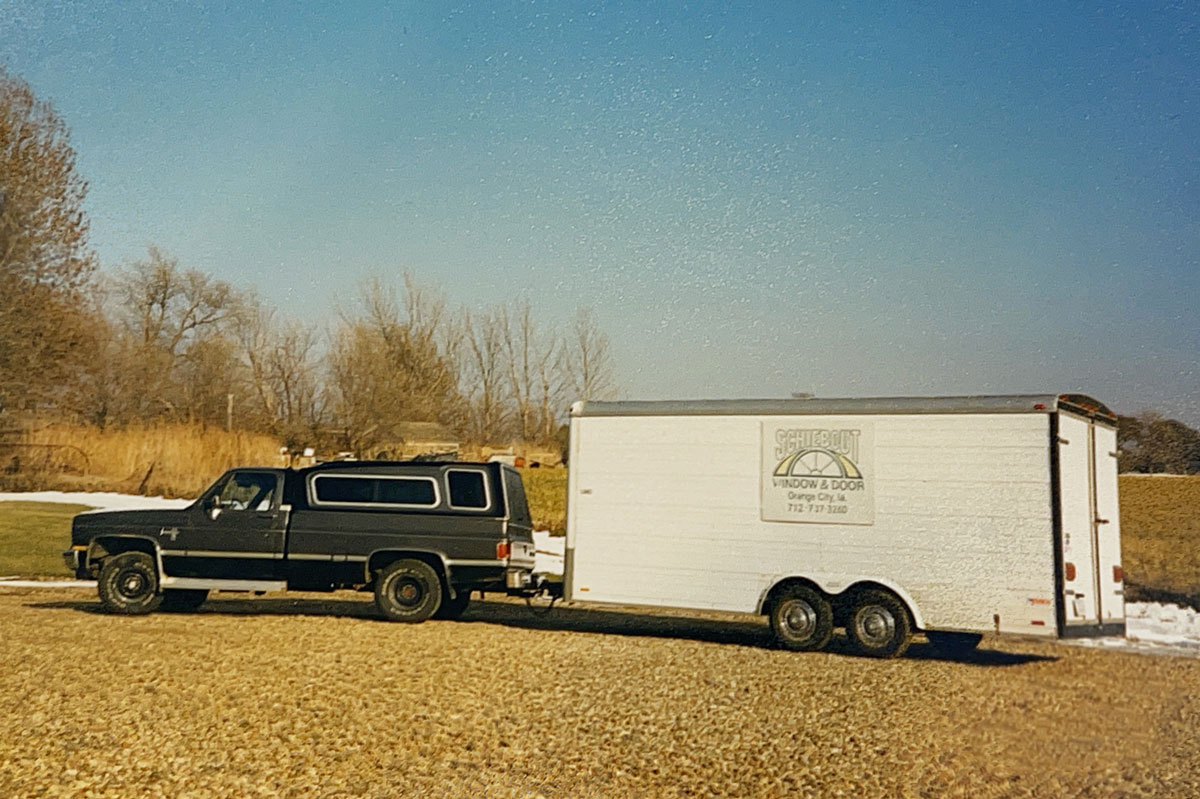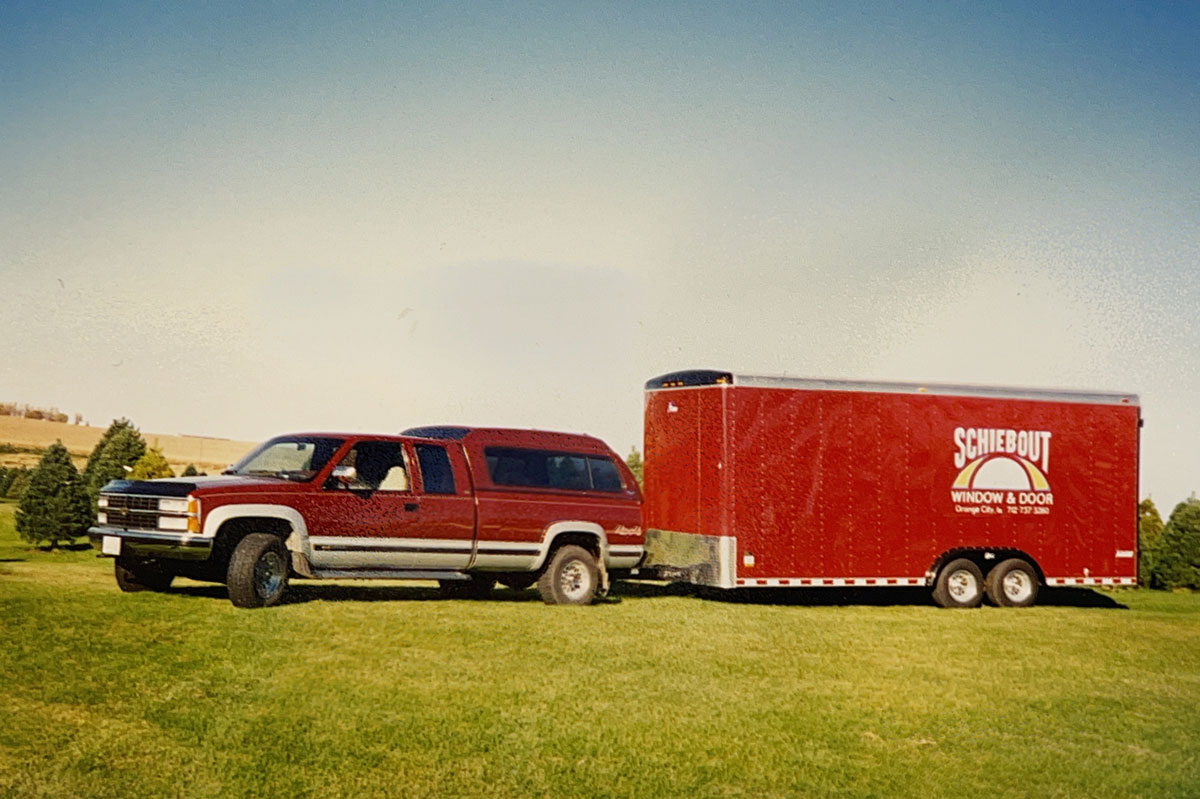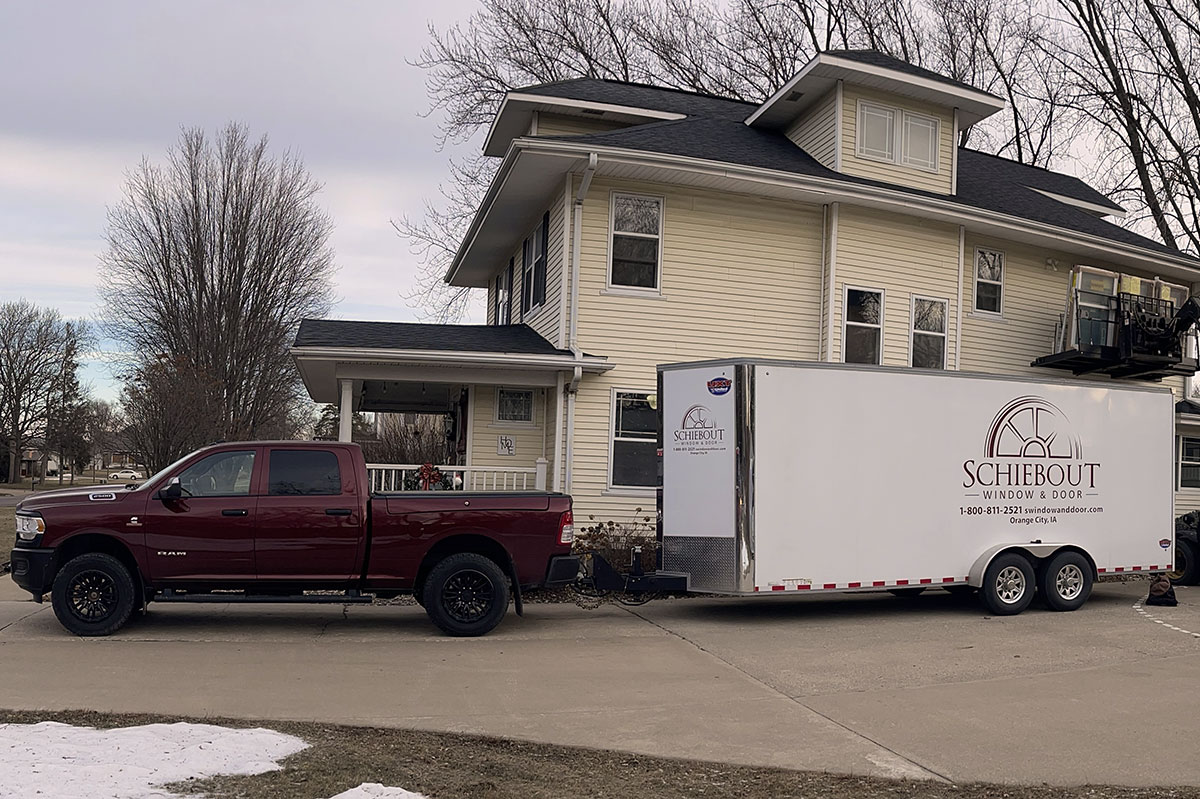 ---
---
---
2004
What was my place in the business during these times? Well as far back as I remember I have been working with dad. He drilled holes in an old leather belt to make it small enough to fit my, then little waist, and put an old tool bag on it. As I got a bit older, but still before I was legally able to drive I was tasked with washing trucks and trailers and putting them away. Starting at 15, my summers were spent working with the installation crew, learning were the real work is done. During the school year, washed more trucks and trailers, vacuumed and dusted them, as well as help with some simple tasks in the shop or the finish room. In January of 2004, I came back and started full time for mom and dad. I did quite a bit more installation, but mostly started my career in sales and marketing. I wasn't good at it at first, but over time my confidence grew and things got easier. I really don't know when it happened, I couldn't give you a month or probably really even a year but I started to take over management, and daily control of the business.
---
---
---
2018
In 2018 Mom, Dad and I began the talks of me buying out the business and taking over. Still keeping them involved, but passing the torch so to speak. In September of 2019, I with the help and partnership of the Schuiteman family we purchased Schiebout Window and Door. It has been what I always knew I wanted, to take over the family business. I am very thankful to my parents for their hard work and dedication of starting and growing the business so that it can sustain my family as well as all other who work for us/with us. Sure there have been some changes since 2019 but the bones of a good business were there and I am thankful!
---
---
---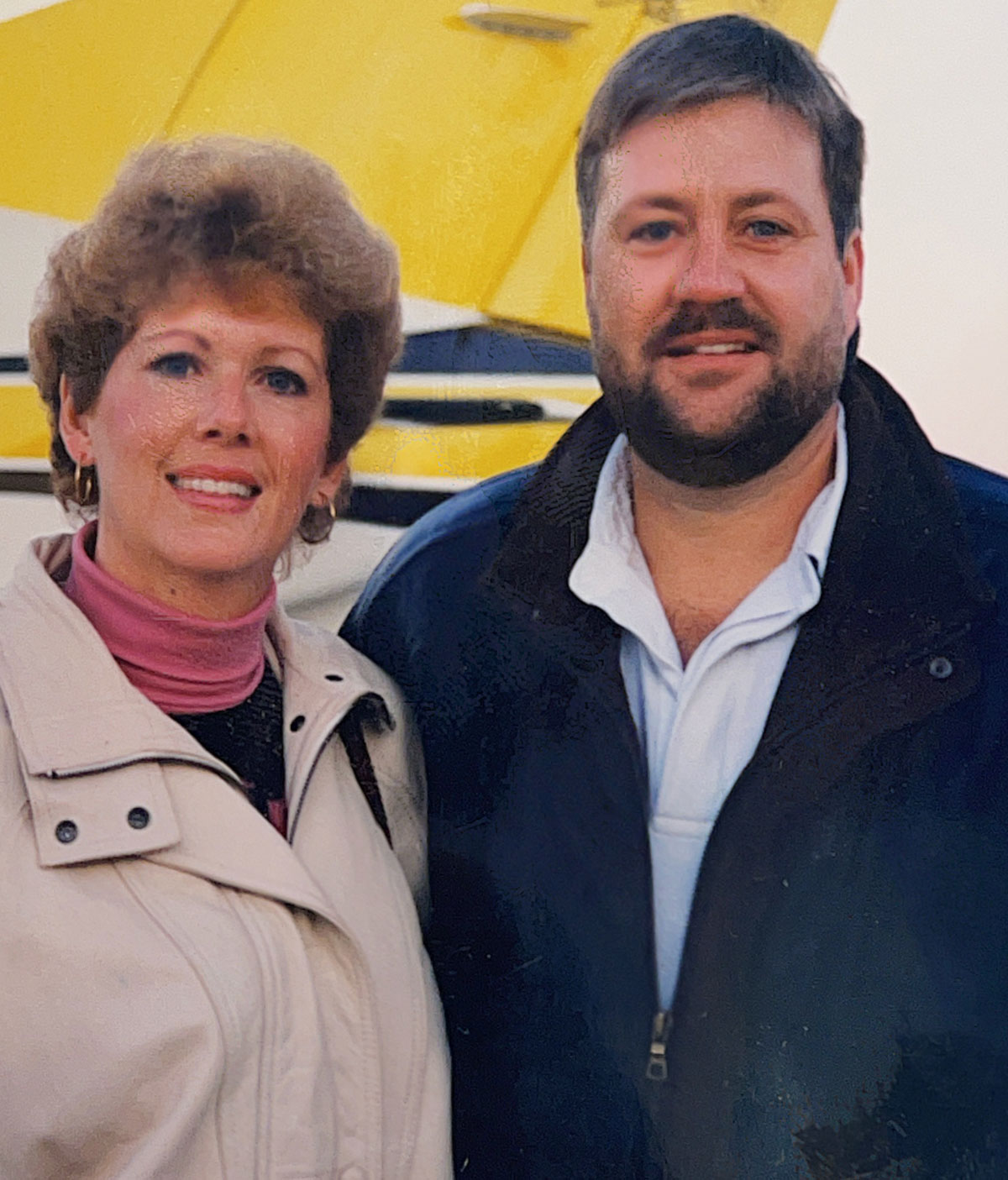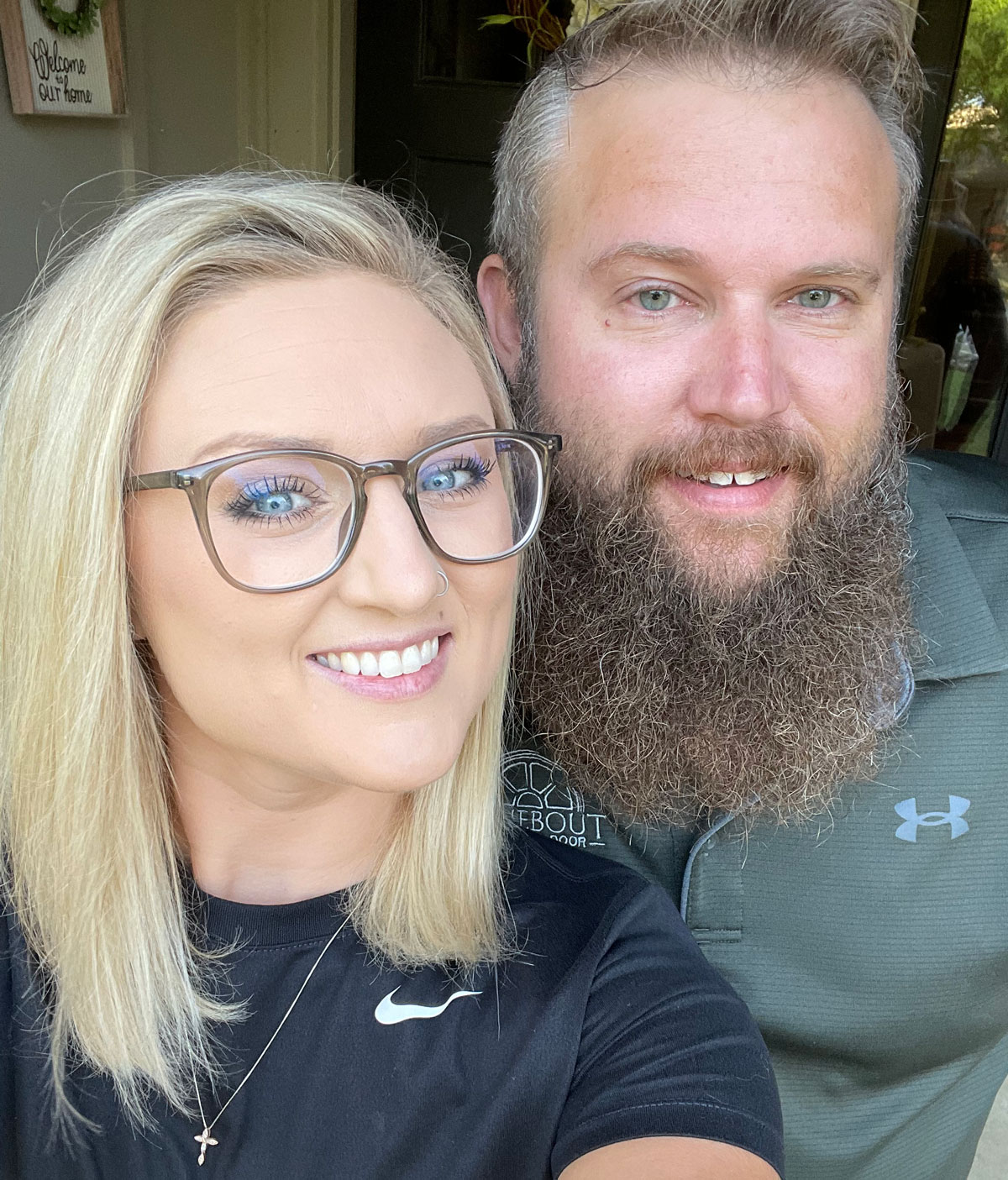 Matt and Kinsey - 2021
---
---
---
TODAY
Where's everybody at today? Well we are still on the same acreage that Mom and Dad bought in 1985, a lot has changed here, but the location is the same.  The original barn is still our office and shop.  Dad is still working part time, and trying to stay out of trouble the rest of the time.  Mom is still here, still the secretary, still our steady support. So as you can tell this is still a family affair and that's the way we like it!
---
---
---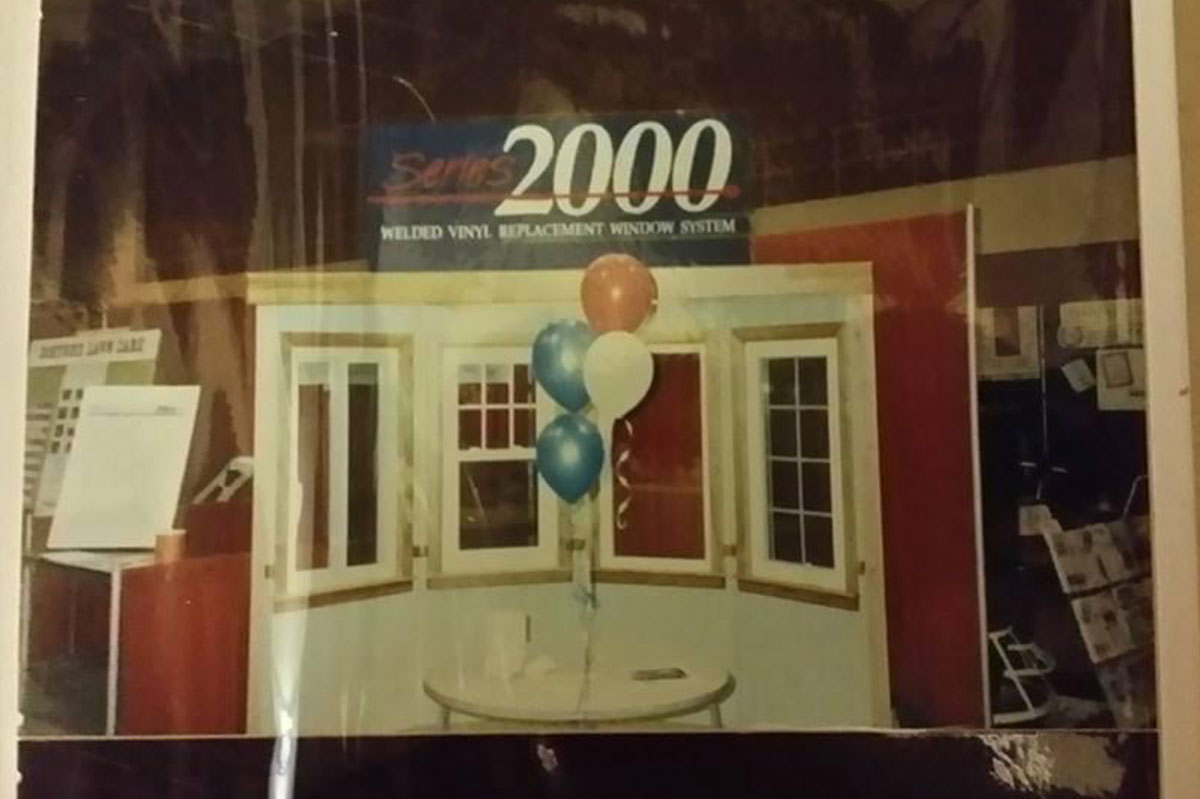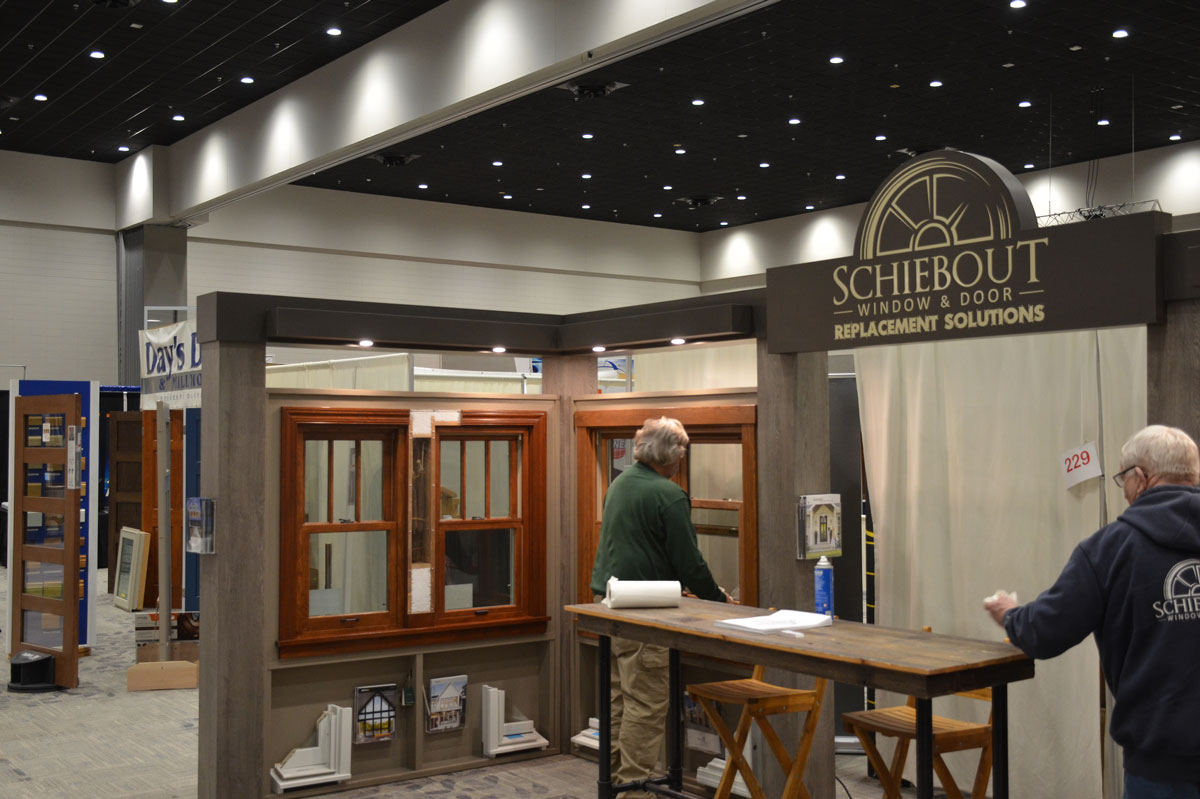 ---
---
---
So why  do I (Matt) love what I do?  Well, I really, truly  love business, especially in  the building industry. I have always really enjoyed and had a knack for design and architecture, this job allows me to work with those things.  This business blesses me daily by letting me work with great people, both customers and employees/coworkers.  It allows me to use my God given gift of problem solving to help find solutions for home/building owners.  One of the simplest pleasures I get from this business is the before and after, the transformation from old to new, or from bare lot to beautiful home.  If you in the market we would love to work with you and show you these things first hand!